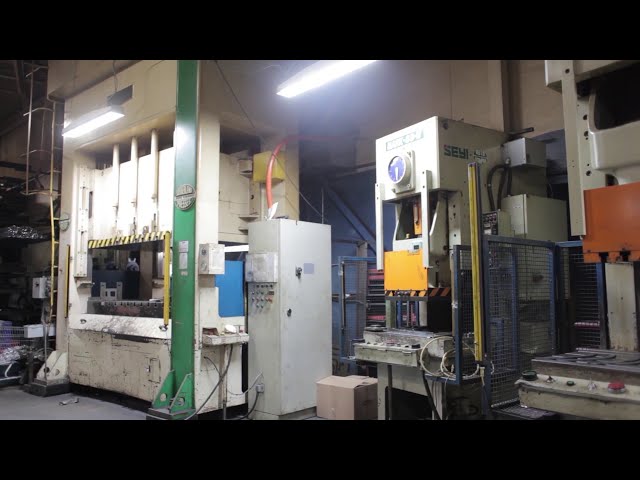 PRECISION METAL STAMPINGS
SUTHERLAND PRESSES 300 TONS
Metal Stamping
Our metal stamping & fabrication division supplies quality products around the world. These precision products are used in a variety of applications, from electrical contacts in the Aerospace & Defense industries, to shims within a fluid pump in a Heathcare & Medical device. We can stamp metal and non-metal products in any custom configuration you desire. We provide precision stamping, fine blanking & piercing, lancing & forming, deep draw and other metal working options, all under one roof. And with our extensive network of metal finishing vendors, parts can be provided to you complete, with finishing such as passivation, CAD plate, or whatever your needs may be.
Advantages of Metal Stamping
Cut Complex Shapes Precisely with Metal Stamping
Metal stamping companies have put processes in place to improve precision stamping, even at a micron level. These new techniques are incredibly detailed and sophisticated and can process even the toughest, most complex shapes using today's innovative technology.
The process involves placing flat sheet metal blanks or coils into a stamping press where a tool forms the metal into a net shape. Achieving the proper final shape may require additional stamping processes such as bending, embossing, stretching, curling, and more
Metal Stamping & Production Cost Efficiency
With metal stamping, cost efficiency is one of the biggest reasons why companies are beginning to take advantage of this process. This technique is a major cost-cutting measure because processing time is significantly reduced during this method. Another benefit is the speed of production that comes along with this process. Speeding up the production process requires less machine use, fewer laborers, and reduced labor time, which means your overall expenses will drop.
Receive Consistent High Quality, Precision Parts through Metal Stamping
Among the common reasons for metal stamping, consistently developing high-quality precision parts is certainly the ultimate goal of this production procedure. By comparing the cutting process to metal stamping, people, unfortunately, believe the stamping process is less effective than cutting. This is a fallacy in need of immediate correction.
Some business owners believe cutting pieces one by one is the only way to guarantee precision. But metal stamping has proven time and time again that it is a high-quality process even though multiple pieces are being cut together. The time-saving and quicker production makes this precision process high-value for businesses in need of bulk pieces quickly.
Types of Metal Stamping Presses
Mechanical presses use a motor connected to a mechanical flywheel to transfer and store energy. Their punches can range in size from 5mm to 500mm, depending on the particular press. Mechanical pressing speed also varies, usually falling between the range of twenty and 1,500 strokes per minute, but they tend to be faster than hydraulic presses. These presses can be found in an array of sizes that stretch from twenty to 6,000 tons. They are well-suited for creating shallower and simpler parts from coils of sheet metal. They're usually used for progressive and transfer stamping with large production runs.
Hydraulic presses use pressurized hydraulic fluid to apply force to the material. Hydraulic pistons displace fluid with a force level proportional to the diameter of the piston head, allowing for an advanced degree of control over the amount of pressure, and a more consistent pressure than a mechanical press. Additionally, they feature adjustable stroke and speed capabilities, and can typically deliver full power during any point in the stroke. These presses usually vary in size from twenty to 10,000 tons and offer stroke sizes from about 10mm to 800mm.
Hydraulic presses are usually used for smaller production runs to create more complicated and deeper stampings than mechanical presses. They allow for more flexibility because of the adjustable stroke length and controlled pressure.
Mechanical servo presses use high capacity motors instead of flywheels. They are used to create more complicated stampings at a faster speed than hydraulic presses. The stroke, slide position and motion, and the speed are controlled and programmable. They are powered by either a link-assisted drive system or a direct drive system. These
presses
are the most expensive of the three types discussed.
Manufacturing Tools for Stamping
TOOL STEEL AND DIE SET MACHINING

SECONDARY PROCESSING

WIRE EDM
CNC ensures a higher level of precision and repeatability for even the most complex dies. Equipment like 5-axis CNC mills and wire EDM machines can cut through hardened tool steels with extremely tight tolerances.
Heat treating is applied to metal parts to enhance their strength and make them more durable for their application. Grinding is used to finish parts requiring high surface quality and dimension accuracy.
Wire electrical discharge machining shapes metal materials with an electrically-charged strand of brass wire. Wire EDM can cut the most intricate shapes, including small angles and contours.
Industries that use Metal Stamping
The world of metal stamping has evolved dramatically over the past century. The quality and precision that present-day metal stamping provides makes it a pillar for many industries. The advancements in innovation and precision are incredibly substantial, especially when compared to the challenges faced with metal stamping's distant ancestors, also known as forging and casting.
Learn More About Our Other Services
Customer service is a cornerstone in the success of ABF. Knowledgeable account managers provide highly personalized service overseeing your orders and projects from start to finish in a friendly and professional manner. ABF operates two shifts seven days a week.
Aluminum Extrusion and Machining
ABF is your single source for specialty aluminum profiles and aluminum extrusions. From standard extruded aluminum shapes, to custom...
Subassembly and Full Assembly
Take advantage of the convenient assembly & packaging services offered by ABF. Whether you require sub-assembly or full assembly to...
Laser Cutting
Laser cutting is one of ABF's Sheet Metal profiling processes that directs a high-power laser through optics to cut materials for industrial applications. Laser cutting is both more precise...
Wire Electrical Discharge Machining
Wire electrical discharge machining (EDM) is a process of metal machining in which a tool discharges thousands of sparks to a metal workpiece.
Brake Press
Brake Press tooling makes all the difference when choosing a manufacturer for metalworks. A variety of tools, along with the machinery's tonnage, determines production...
CNC Milling
Digital technologies and CNC milling machines allow for the resolution of many problems which cannot be easily solved using prior methods. The technology approaches...
CNC Turning
With access to a network of over 3,000 shops with CNC lathes and turning centers, ABF provides you with the capacity and capabilities your project needs, while also delivering...
Tool & Die Making
Tool and die making, the industrial art of manufacturing stamping dies, plastics molds, and jigs and fixtures to be used in the mass production of solid objects.
Fabrication & Welding
Metal fabrication is a critical part of the manufacturing process. From paperclips to plane parts, it's used to create a wide variety of products. Metal fabrication is an essential...
Metal Stamping
Our metal stamping & fabrication division supplies quality products around the world. These precision products are used in a variety of applications, from electrical...
Tube Bending
ABF's CNC tube benders handle everyday bending tasks as well as the most demanding, high precision jobs. These CNC bending machines are perfectly suited for production...
Powder & Liquid Coating
We provide both powder and liquid coating services: Dry powder coating is applied as a free-flowing powder, liquid coating is also available if you're aiming for that glossy look.
Complete Design and Engineering
At the center of ABF's productions capabilities is a team of skilled engineers who provide outstanding design & engineering expertise utilizing the latest in high-end 3D modeling & CAD/CAM software. 3D modeling and prototype production are facilitated through their years of experience resulting in optimized output efficiency. ABF offers design/build assistance that can best adapt your existing parts or original concepts to the most innovative and cost effective manufacturing methods.
Inventory Management Services
With our comprehensive & fully integrated Visual Manufacturing ERP (Enterprise Resource Planning) system, ABF offers just in time shipments and other inventory management services. Component and assemblies flow smoothly into your production line eliminating needless delays; as well, we can manufacture and stock optimal quantities of product to assist you in best managing your inventory.
Fleet Services
With a truck fleet that includes a flatbed, deliveries and pickups are a breeze. We provide free fleet services when we fill any large requisitions. Our delivery services are available in conjunction with any of production services above. Just let us know where you want your Mercedes power.