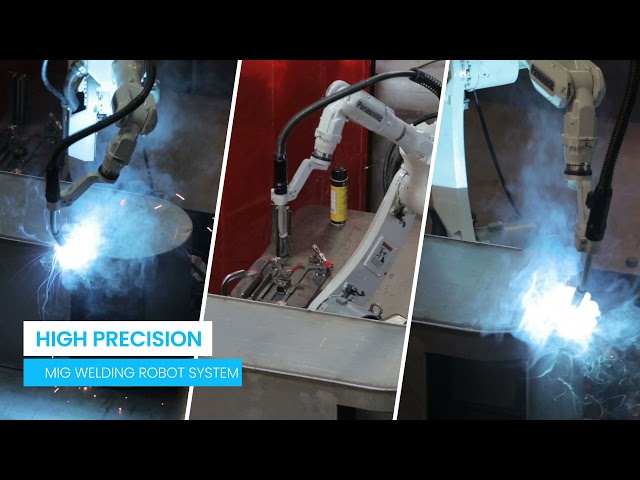 WELDING AND BRAZING
MIG WELDING ROBOT SYSTEM (STEEL & ALUMINUM)
Fabrication and Welding
Metal fabrication and welding are a critical part of the manufacturing process. From paperclips to plane parts, it's used to create a wide variety of products. Metal fabrication and welding are an essential step in creating everything from hardware and tools to car parts and pipes.

Although fabricated metal products are common, few people understand how the metal fabrication process works. Most people think of welding when they hear metal fabrication. But welding is just one process that metal fabricators use.
Different Types Of Metal Fabrication
Commercial
Commercial fabrication and welding refers to work that's done while creating commercial products. This category covers goods designed for use by consumers. Appliances and cars are both common consumer products that use commercial fabrication.
Industrial
Industrial fabrication and welding, on the other hand, creates pieces that are used in other equipment. This equipment, in turn, manufactures consumer goods. Manufacturers use most products of industrial fabrication and welding.
Structural
Structural fabrication and welding refers to metalworking that's done as part of the building process. Usually large-scale fabrication and welding projects create the metal components used by shops, manufacturers, buildings and skyscrapers.
SHIELDED METAL ARC WELDING (SMAW)

OXY-ACETYLENE WELDING (OA)

TUNGSTEN INSERT GAS WELDING (TIG)

GAS METAL ARC WELDING (MIG)
This is the best-known and most commonly used welding form. It's a fusion method that's also called stick welding. It involves an electric current and consumable welding rods that act as a filler between the surfaces being joined.
Another common welding method involves combining a tank of oxygen and a tank of acetylene through a torch nozzle. This flame heats the metal while a filler rod allows metal fusion.
TIG welding is called the most refined because of the high-quality results you'll see from a TIG weld. This is a "two-hand" procedure that involves the use of a non-consumable tungsten electrode to create the weld.
This is a wire-feed welding method with a consumable rod fed from a continuous spool of electrode wire. MIG welding is excellent for thin stock and sheet metal welds.
Industries that use Metal Fabrication and Welding
Metal fabrication and welding has applications in a wide variety of industries. Because of the versatility of tools and processes, it's used to create parts for industries as varied as agriculture, spa furniture and cars.
Learn More About Our Other Services
Customer service is a cornerstone in the success of ABF. Knowledgeable account managers provide highly personalized service overseeing your orders and projects from start to finish in a friendly and professional manner. ABF operates two shifts seven days a week.
Aluminum Extrusion and Machining
ABF is your single source for specialty aluminum profiles and aluminum extrusions. From standard extruded aluminum shapes, to custom...
Subassembly and Full Assembly
Take advantage of the convenient assembly & packaging services offered by ABF. Whether you require sub-assembly or full assembly to...
Laser Cutting
Laser cutting is one of ABF's Sheet Metal profiling processes that directs a high-power laser through optics to cut materials for industrial applications. Laser cutting is both more precise...
Wire Electrical Discharge Machining
Wire electrical discharge machining (EDM) is a process of metal machining in which a tool discharges thousands of sparks to a metal workpiece.
Brake Press
Brake Press tooling makes all the difference when choosing a manufacturer for metalworks. A variety of tools, along with the machinery's tonnage, determines production...
CNC Milling
Digital technologies and CNC milling machines allow for the resolution of many problems which cannot be easily solved using prior methods. The technology approaches...
CNC Turning
With access to a network of over 3,000 shops with CNC lathes and turning centers, ABF provides you with the capacity and capabilities your project needs, while also delivering...
Tool & Die Making
Tool and die making, the industrial art of manufacturing stamping dies, plastics molds, and jigs and fixtures to be used in the mass production of solid objects.
Fabrication & Welding
Metal fabrication is a critical part of the manufacturing process. From paperclips to plane parts, it's used to create a wide variety of products. Metal fabrication is an essential...
Metal Stamping
Our metal stamping & fabrication division supplies quality products around the world. These precision products are used in a variety of applications, from electrical...
Tube Bending
ABF's CNC tube benders handle everyday bending tasks as well as the most demanding, high precision jobs. These CNC bending machines are perfectly suited for production...
Powder & Liquid Coating
We provide both powder and liquid coating services: Dry powder coating is applied as a free-flowing powder, liquid coating is also available if you're aiming for that glossy look.
Complete Design and Engineering
At the center of ABF's productions capabilities is a team of skilled engineers who provide outstanding design & engineering expertise utilizing the latest in high-end 3D modeling & CAD/CAM software. 3D modeling and prototype production are facilitated through their years of experience resulting in optimized output efficiency. ABF offers design/build assistance that can best adapt your existing parts or original concepts to the most innovative and cost effective manufacturing methods.
Inventory Management Services
With our comprehensive & fully integrated Visual Manufacturing ERP (Enterprise Resource Planning) system, ABF offers just in time shipments and other inventory management services. Component and assemblies flow smoothly into your production line eliminating needless delays; as well, we can manufacture and stock optimal quantities of product to assist you in best managing your inventory.
Fleet Services
With a truck fleet that includes a flatbed, deliveries and pickups are a breeze. We provide free fleet services when we fill any large requisitions. Our delivery services are available in conjunction with any of production services above. Just let us know where you want your Mercedes power.