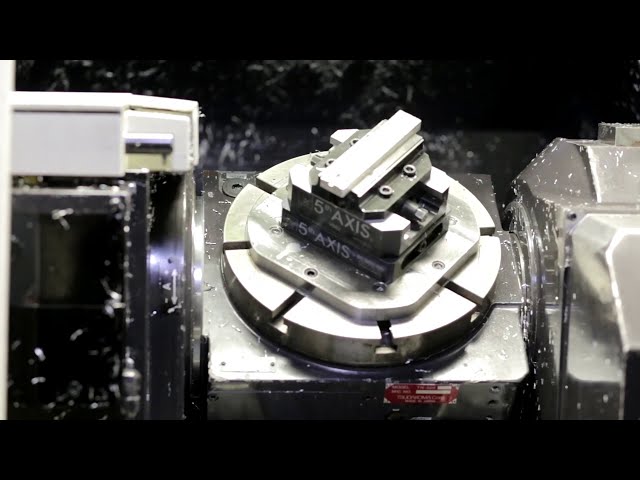 CNC MILLING
CNC 5 AXIS
5'X13' BED CNC 3 AXIS
CNC Milling Services
CNC Milling Services allow for the resolution of many problems which cannot be easily solved using prior methods. The technology approaches the working process in a way that's both more effective and more efficient.

For example, without a CNC milling services machine, the process of cutting metal for car parts or even aerospace components would be much riskier. With the support of computer programs, one can access and create high definition designs that are easily converted into Cartesian coordinates. This process even helps lower the costs of prototyping!
Advantages of CNC Milling
Scalability
CNC Milling Machining is perfect for production of 1-10,000 parts.
Precision
Offers high-precision tolerances ranging from +/-0.001″ – 0.005″, depending on customer specs.
Rapid Turnaround
Using the latest CNC Milling machines, ABF produces highly accurate, quick turn parts in as fast as 1 day.
Material Selection
Choose from over 50 metal and plastic materials. CNC Milling Machining offers a wide variety of certified materials.
Custom Finishes
Select from a variety of finishes on solid metal and plastic parts, built to precise design specifications.
Applications for CNC Milling
Because CNC Milling Services can be applied to virtually any material, it is perfect for rapid tooling, i.e., creating fixtures or molds.
The range of materials available, low cost per unit, and speed of production makes CNC Milling Services a great option for prototyping
High-quality finish, vast material options and precise tolerances have made CNC Milling Services a favorable technology for end-use parts.
ALUMINUM

BRASS/BRONZE

COPPER

PLASTICS

STEEL

TITANIUM

ZINC
Available Aluminum Varieties:
Aluminum 5052
Aluminum 7075
Aluminum 7075-T6
Aluminum 6063-T5
Aluminum 7050-T7451
Aluminum MIC-6
Aluminum 6061-T6
Aluminum 2024-T3
Available Brass Varieties:
Brass C360
Brass 260
C932 M07 Bearing
Bronze
Available Copper Varieties:
EPT Copper C110
Copper 101
Available Plastic Varieties:
ABS
Acetal [Delrin]
Acrylic
G-10 Garolite
Nylon 6/6
PEEK
Polycarbonate
PTFE [Teflon]
Polypropylene
Ultra-High Molecular
Weight Polyethylene
Available Steel Varieties:
Alloy Steel 4130
Alloy Steel 4140
ASTM A36
Stainless Steel 15-5
Stainless Steel 17-4
Stainless Steel 18-8
Stainless Steel 303
Stainless Steel 304
Stainless Steel 316/316L
Stainless Steel 416
Stainless Steel 420
Steel 1018
Steel A36
Available Titanium Varieties:
Titanium Grade 2
Titanium 6Al-4V
Available Zinc Varieties:
Industries that use CNC Milling
CNC Milling Services are the workhorses of the manufacturing world. Because of their tight tolerances and the variety of materials they are suited to, CNC milling is a crucial process in many industries. Some of the major industries that benefit from CNC Milling are aerospace & defense, automotive, consumer products, energy, industrial machinery, medical, robotics, and R&D. CNC Milling machines are also vital to many other manufacturing processes.
Learn More About Our Other Services
Customer service is a cornerstone in the success of ABF. Knowledgeable account managers provide highly personalized service overseeing your orders and projects from start to finish in a friendly and professional manner. ABF operates two shifts seven days a week.
Aluminum Extrusion and Machining
ABF is your single source for specialty aluminum profiles and aluminum extrusions. From standard extruded aluminum shapes, to custom...
Subassembly and Full Assembly
Take advantage of the convenient assembly & packaging services offered by ABF. Whether you require sub-assembly or full assembly to...
Laser Cutting
Laser cutting is one of ABF's Sheet Metal profiling processes that directs a high-power laser through optics to cut materials for industrial applications. Laser cutting is both more precise...
Wire Electrical Discharge Machining
Wire electrical discharge machining (EDM) is a process of metal machining in which a tool discharges thousands of sparks to a metal workpiece.
Brake Press
Brake Press tooling makes all the difference when choosing a manufacturer for metalworks. A variety of tools, along with the machinery's tonnage, determines production...
CNC Milling
Digital technologies and CNC milling machines allow for the resolution of many problems which cannot be easily solved using prior methods. The technology approaches...
CNC Turning
With access to a network of over 3,000 shops with CNC lathes and turning centers, ABF provides you with the capacity and capabilities your project needs, while also delivering...
Tool & Die Making
Tool and die making, the industrial art of manufacturing stamping dies, plastics molds, and jigs and fixtures to be used in the mass production of solid objects.
Fabrication & Welding
Metal fabrication is a critical part of the manufacturing process. From paperclips to plane parts, it's used to create a wide variety of products. Metal fabrication is an essential...
Metal Stamping
Our metal stamping & fabrication division supplies quality products around the world. These precision products are used in a variety of applications, from electrical...
Tube Bending
ABF's CNC tube benders handle everyday bending tasks as well as the most demanding, high precision jobs. These CNC bending machines are perfectly suited for production...
Powder & Liquid Coating
We provide both powder and liquid coating services: Dry powder coating is applied as a free-flowing powder, liquid coating is also available if you're aiming for that glossy look.
Complete Design and Engineering
At the center of ABF's productions capabilities is a team of skilled engineers who provide outstanding design & engineering expertise utilizing the latest in high-end 3D modeling & CAD/CAM software. 3D modeling and prototype production are facilitated through their years of experience resulting in optimized output efficiency. ABF offers design/build assistance that can best adapt your existing parts or original concepts to the most innovative and cost effective manufacturing methods.
Inventory Management Services
With our comprehensive & fully integrated Visual Manufacturing ERP (Enterprise Resource Planning) system, ABF offers just in time shipments and other inventory management services. Component and assemblies flow smoothly into your production line eliminating needless delays; as well, we can manufacture and stock optimal quantities of product to assist you in best managing your inventory.
Fleet Services
With a truck fleet that includes a flatbed, deliveries and pickups are a breeze. We provide free fleet services when we fill any large requisitions. Our delivery services are available in conjunction with any of production services above. Just let us know where you want your Mercedes power.